If you've already visited my 1800-market link in my blog above this one, you'll recognize this place: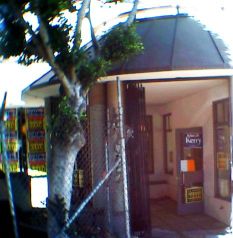 It's the entry to the Democratic Party's "Every Vote Counts" Campaign, where I volunteer in our struggle to defeat Bush. And the only way to do so, is get Kerry into the White House. Not that I'm particularly keen on the Dems, but I just see no other way to go, in this most crucial turning point of Amerikan history.

Well, on my way for another few hours volunteering there, I pass by one of the many winos strewn along San Francisco's Market Street: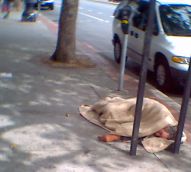 But notice the small white sheet of paper on the sidewalk, along the center left edge of this picture. Something seems to be printed on it, but I'm too far away to discern. What is it? What could it say? I come closer: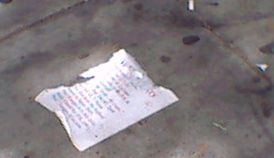 Well, you still can't read it, so here's the text:


Oct. 5, 7:30pm, 1844 Market, Vets for Kerry, free
movie: "Bush's Role in the JFK and King Ambush".

Oct. 9, 2pm, 1844 Market: "JFK: The Truth 40 Years
Later".

Oct. 12, 7:30pm, 1844 Market: "Paul Kangas,
bodyguard for JFK, 1961".


"This looks like fun: 'Bush's Role in the JFK and King Ambush'" I think. "What kind of vets would show up at such a 'sixties' conspiracy flick? Nam Vets, of course!" I just gotta go, too, I decide. Alls I need to make this a perfect evening, is to toke up on a doobie just before the show begins!

You see, I too am a creature of the 60's, though a draft dodger. However...my soulmate--who is either missing or dead since 1993--is/was a Vietnam veteran. And it would make me feel close to him again, if I attend this little event. Of course, there's also the fantasy of making a new Nam Vet friend (do I dare dream lover? Yes, but I know it ain't gonna happen).

So stay tuned for my report on the characters I meet there. If I enjoy myself, or find it the least bit distracting, I'll attend the other two events. Interesting that it's the same address as "Every Vote Counts", though I couldn't find that same flyer anywhere in the building proper. Hmmm, I love the whiff of conspiracy implicit with a faded, torn flyer wheat pasted on the sidewalk, soon to disappear w/o a trace.

So anyways, I enter the building to begin my volunteer work. Today, it's the phone banks. Other days, it's the computer; inputting phone bank tallies into our voter database. But this evening is The Debate (you know, the first one between John Kerry and Lord Bush)...and we are holding a free party for all our Democratic voters here in San Francisco.

Our entire world teeters on destruction...yet we must fight with a stupid "debate" where the majority of Amerikans vote their superficial values, being as dumbed down as they are, what with the destruction of quality education that started in backlash to the Free Speech Movement of the 60's.

Of course, we cannot afford anyone for our next president, but Kerry. But the failure of the Dems is centrism. We are not going to see universal health care any time soon, decent jobs and housing. And we can just forget gay equality for some time, too...as Kerry is on record as denouncing gay marriage. Which is but an innocent-seeming sound byte behind which lurks the Beast of Homophobia.

But if Bush wins a second term, I can guarantee a national holocaust against all sexual minorities, and civil war. And the rest of the world will declare these Yoonited States an imminent danger to our planet's survival...dividing us up like we once did with Germany, to prevent our police-state rogue nation dictatorship from continuing down the path of annihilation.

This site has many good links to blogs that discuss the Kerry/Bush Debates:

Student Views on the Presidential Debates

NEWS FLASH: Al Franken's gonna show up tomorrow, and I have been hand-picked among several other volunteers, for an hour of phone-bank calling with this great anti-Republican political humorist! Can't wait to do my blog on this! Will he stoke my flames of cynicism (that are already a raging cauldron), or assuage me with vanilla waves of renewed hope and optimism (at least for a few hours)? Stay tuned, dear readers!

The first few years of "King of the Hill" did not attract me. In fact, I did not like this new animated sitcom at all. But about a year ago, I fell in love with the show, and watch it avidly. Why don't you? Here's their official site:

fox.com/kingofthehill/

Jump the Shark also has some great comments, pro and con, about this cartoon series:

jumptheshark.com/k/kingofthehill.htm

At least, it's a healthy escape for a time, from these stupid debates, and the insanity, violence, stupidity, racism and homophobia that have become the hallmark of our sorry nation.

And so is attending JFK/MLK conspiracy movies with a bunch of seasoned Nam Vets stoned on ganja. I hope.

(Do you think Bobby Hill is gay? I do!)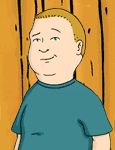 P.S.: My latest open-mic was a hit! I tape-recorded the skit, and uploaded it here:

I Love Gay Mecca (a parable for the 21st century).