Blog For Free!
Archives
Home
2010 March
2009 September
2009 August
2009 June
2009 May
2009 April
2009 March
2009 February
2009 January
2008 December
2008 November
2008 July
2008 June
2008 May
2008 April
2008 March
2008 February
2008 January
2007 December
2007 November
2007 October
2007 September
2007 March
2007 February
2007 January
2006 August
2006 May
2006 April
2006 March
2006 January
2005 December
2005 November
2005 October
2005 September
2005 August
2005 July
2005 May
2005 April
2005 March
2005 February
2005 January
2004 December
2004 November
2004 October
2004 September
2004 June
2004 May
My Links
Gay Bible
Steal This Blog
ZekeBlog 2.0
tBlog
My Profile
Send tMail
My tFriends
My Images
Sponsored
Create a Blog!
Open Source Can Do No Harm
03.06.10 (7:59 pm) [edit]


I have just migrated my blog to WordPress. Click on Penguin above, to go there. Or if you prefer, copy the link below, and paste into your browser's location bar.
tinyurl.com/y9ud3ya


3 Comments
My Letter to Ray Taliaferro
09.22.09 (11:41 pm) [edit]
FYI: Before you begin reading this piece, some of you need to know who Ray Taliaferro is: one of the most popular, longterm progressive talk show hosts in all of America. I've been listening to him for years, here at his home base station, Radio KGO. But he's considerably more than "just" a radio celebrity. Click on his image below, to access his KGO page, and learn of his many good works.
---

Hello again Ray (I called in twice in the past four years: gay activist Zeke). I totally enjoyed your righteous rant last night, against the evil Norton security and anti-virus services. You are quite correct as a savvy consumer: they are treating you like you're stupid, a fool, whose wallet is for the plucking. Your proposal to sue the heck out of them is a worthy cause...and about time PC consumers rise up in outrage. Meanwhile, I have a most effective and powerful solution to clean up your computer and have it purring like a kitten in no time...all for free. No jive, no strings attached.
Not only am I a gay activist, I am also a hacker advocate...but only in the best sense of that word, as in: "white hat hacker" (those who use their programming skills to legally assist people with computers, often dedicated to alternative non-Microsoft methods and systems.) Those of us in the know have religiously avoided any retail programs for years. For there are many excellent security and anti-malware applications available in the free software community. What it comes down to is this:
Install a small combination of free security and anti-malware applications. Not only do they cost *nothing* to use, they are also rated higher than any retail equivalent. For the sake of Windows users such as yourself, I have provided these free solutions in my blog entry from February:
Just follow the simple instructions, and your system will be as good as new...even better. I even give you a way to thoroughly clean up an already ravaged system...so I just don't deal with preventive measures, but curative as well.
I think you will be very pleased at the results; feel free to share with as many other Windows customers as possible, in order to fight this war against consumer ripoff. But as you know, there is another method to own a secure system: switch your operating system. You mentioned buying Macintosh. But hold on a moment:
That changeover requires an additional major expense. Why surrender a perfectly good system that you just bought, to the recycle bin...when you can simply replace the present operating system with one that is far more secure, virus free and user friendly...and costs nothing at all? That would be Linux, or more specifically, a Linux distribution called Ubuntu.
That is what I have finally done last October, and I haven't looked back. Ubuntu has all the capabilities of Windows programs, minus all the ugly hassles. To learn more about Ubuntu:
But if for some reason you are committed to certain Windows software, there are various and excellent *free* (or quite cheap) emulators that in most cases will run these applications in Linux. (And do you know *why* the Mac is so virus free? Because it is a Unix-derived system. As is Linux.)
There are also free "install fests" around the bay, via any number of Linux and Unix organizations. So you're not even stuck with installing Linux on your own. In fact, I am the founder of one such group: the Berkeley Unix User Group (first meeting: 13 Jan 2000). Our home page:
I am also a member of another user group just born this year: the Berkeley Linux User Group. Whose founder is a brillaint young man in possession of countless sparkling brain cells, Jack Deslippe. His page:
BUUG meets on the 1st and 3rd Thursday of the month (7-9 pm at Cafe Au Coquelot on University Ave. near Shattuck), while BerkeleyLUG meets on the 2nd and 4th Sundays of each month (noon-2 pm at Bobby G's Pizzeria same block).
You are most welcome to join us at either meeting, and ask all the questions you want. Bring your Toshiba if you'd like us to install Ubuntu...either alongside Windows in a dual-boot setup, or solo. (Note: you need to defrag your Windows system before installing Ubuntu, if you want to dual boot. Best done before you show up. Also, let us know a couple days ahead if you want to install Ubuntu, so we can prepare. And make damned sure all your valuable data is backed up to an external source, before proceeding! Better yet: two external sources, such as a DVD disc and remote online storage.)
When are the next meetings?
BerkeleyLUG: September 27 (Sunday), noon
BUUG: October 1 (Thursday), 7pm
Keep up the good fight, Ray...your *many* good fights. I'll be listening to you as always, on late night KGO radio, 810 on the AM dial. And maybe, some fine day, I'll have the immense pleasure to meet you in person.
Most sincerely,
Zeke Krahlin
gay-bible.org


5 Comments
The Ohlone Greenway
09.16.09 (12:45 am) [edit]

Just turned on to this lovely bicycle route, by a longterm BUUG member, who is also a prominent Unix expert and administrator for BALUG (Bay Area Linux User Group). It actually starts at one end, in Ohlone Park...finally ends up in Richmond. See map above (click on it for better details).
My first ride on that pathway, was two days ago, to Solano Avenue, Albany...where there was this humongous street fair, where I volunteered at our "Berkeley Linux User Group" (BerkeleyLUG) booth. Lots of curious folks asked very smart questions, even though many of them still use Windoze, and never even heard of Linux or Ubuntu!
The Greenway goes much further than Albany...I intend to ride the trail in full very soon...once this latest mini heat wave is over. You know how September can get! In fact, there was a 3-day heat wave until the day I went to Solano...it had cooled down nicely, and we even had a light, premature rainfall from 5 pm on. So I rode my new bike in this delicious rain, and stopped along the way to Rockridge BART, at Au Coquelot Cafe on University, for an iced tea, and to try out their new free wifi.
Then I continued in this barely moderate rain, along Shattuck, then up Russell and zigzagging through all the lovely neighborhoods, coming out via Alcatraz to College Avenue. Got off at your usual stop, 16th & Mission, walked the bike one block up to 17th, then rode the remainder "home". I was wonderfully exhausted from the great exercise...and am glad to be resuming my workouts once more, after three years' neglect.
Bicycling doesn't even feel like exercise, but it surely is! Makes it psychologically easier to round this out with yoga and mild weights. My social group for hackers, BUUG, has been such a great success, I'm thinking about starting another one, this time a bicycling group, "Cycle Nerds" or some such.

CYCLE NERDS - every Sunday and Wednesday from 3-5pm

Take a break from your computers--as much as you love them--and tool
around Berkeley on bicycle in the company of other non-macho, pro-intellect computing enthusiasts! No pressure, non-competitive, just a leisurely cruise through idyllic neighborhoods, parks and side roads. Cancelled if rained out, but drizzle and fog are just fine. End-ride coffeehouse stop is optional.

Solano Avenue Stroll is a lovely (and looong, uphill slope) of small shops, restuarants, and tree-lined green patches. Very villagy in a Berkeley way, I could spend some quiet hours holed up in a little cafe every now and then...reading or wifi browsing.
Here's a wikipedia page about this exquisite urban trailway:
wikipedia.org/wiki/Ohlone_Greenway
The Greenway is lined with Calif. cottages and low-rise apartments...love to live in one of 'em, w/backyard facing the trail. There are even benches scattered throughout, where one can pause and admire the cute guys whizzing by! Hmmm...did I die and go to
heaven perhaps?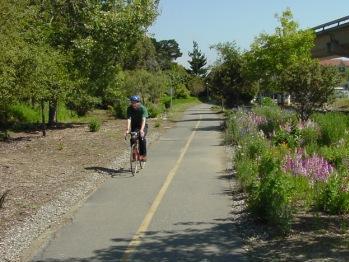 4 Comments
SF Jim's Resplendent Flame
09.11.09 (5:44 pm) [edit]

testing testing 1...2..3...good morning Zeke.

just watched the 'Charlie Sheen' video. right wing (dumbass Republican)radicals rely on force and threats of force(and the occassional threat of JESUSCHRIST'S HELL) to bully people. left wing radicals, (who seem to often be a fringe group of people who consider themselves 'intellectuals', but are actually only of average intelligence) rely on the psychological terror of conspiracy theories to bully and control people. it's all TERRORISM. Lenin, Hitler, Stalin, Mao, Genghis Khan, the Moguls who invaded India, Alexander 'the Grape', Napoleon, the Republicans, THE POPES, etc etc etc. MANY regimes instituted through violent 'revolutions', have OFTEN been more bloodthirsty than the one they replaced.

Regarding our own lovely little 'American Revolution': do you know that slavery was outlawed in most of the British Colonies in 1833 (wikipedia.org/wiki/Slavery_Abolition_Act_1833)? if the 'brilliant' Americans could have figured out how to deal with the British without resorting to violence, the Civil War might not have needed to happen. if Neville Chamberlain hadn't been so STUPID, WWII might have been avoided. it's all the same schtick. Alex Jones (and his buddy Lyndon LaDouche) is just another uneducated half-wit LOSER wannabe dictator media whore hillbilly(from 'bumfuck' Tex-ass).

i'm afraid he would have us in concentration camps quicker than anyone. slick soundbyte production. it's just as sickening to me(maybe MORE) as THE BusH-Cheney GANG. Charlie Sheen is a known idiot. so maybe some dumbass real estate fat cat in New York took advantage of the situation and blew tower 7. 3000 people were already dead at that point. red herrings and wannabe dictators.....so what is THEIR solution?? 'by any means necessary'...????

the idiot loser Karl Marx said that i think. if 'they' have any REAL evidence of a 9-11 coverup, how come nobody has the balls to prosecute anyone for anything. just a bunch of whiney losers who think they can get laid by squealing half-truths and imaginary monsters like little babies and Stephen King(garbage-P.U.Litzer). are we hearing Ralph Nader schpeel this crap? i haven't. and of course, none of them have the balls to actually run for office. no, they have a million excuses about that. Ray Taliafero, John Rothmann, Bill Bomb-Boy Wattenburg(at least he admitted he has too many enemies). they've all told me SIMILAR STORIES as to why they CAN'T POSSIBLY run for office.

they don't actually want to DO anything. they'd rather just sit on the radio and do the bitch-fest along with ROACH Limbaugh. have you seen those idiots on that show that comes on after DEMOCRACY NOW? i think it's called 'Global News' or something. talk about sLEEZY. yikes!! the guy with the big ears might as well put a sign on his forehead 'BIG JUICY DICK NEEDS TO BE SUCKED'. what a bunch of crap. did you hear the news about that Republican asshole from Orange county at the California Assembly committee hearing whispering about spanking his mistress in her 'eyepatch panties' ...what a funny joke!

youtube.com/watch?v=nHOqORoyEVQ&feature=related a better copy should be on YouTube soon. this one is obviously not done by an experienced videographer, but you get the drift.

i've seen and heard the eyewitness testimony of people who saw the plane crash into the Pentagon. i believe any one of them any day before i believe anything out of Alex Dumbass Jones' stupid mouth.

IGNORANCE causes all the problems. CONCIOUSNESS eliminates IGNORANCE. YOGA(and Bi-Homosexuality) is the only way out of the cycle of violence.
ramakrishnavivekananda.info/gospel/volume_2/vol_2_frame.htm
MEDITATION NOT ..........(i'm looking for the word)!!!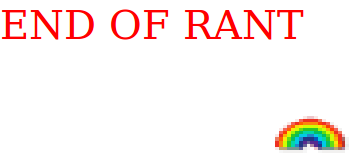 youtube.com/user/SanFranciscoJames
health.groups.yahoo.com/group/theenlightenmentdiscussion/
godchristguru.blogspot.com/
15 Comments
Homage To Laura's NYC Tales
08.04.09 (2:26 am) [edit]

Dark, quiet night in the city of San Francisco. I have insomnia. Again. Maybe I'll get on the net and load some page that will cheer me up. I know: "Laura's NYC Tales"...it's been quite a while since I last visited (close to 2 years, I think). Whaddya know, her site's still up. No new stories, but hey, how wonderful to read what remains, those tales pass the test of time, and give me cheer as brightly as the first reading.

So, Laura's not posted anything new since 2007, haven't received any alert from her mailing list in a looong time. Wonder what's up with her Chris Rock offer to help publish her first book? I imagine that most of the stories once on her superb web site have been removed, as they are the ones destined for publication.

Maybe the book offer fell through? Whatever! These are tough times, and many a fine writer may never get published (that's personal, believe you me). I like to think that Laura is writing new tales, sending them out to classy literary magazines, and gradually building her reputation as a cutting edge author par excellence!.

And I want Laura to know that, as one of her most appreciative fans, that I cherish the warm nostalgia of visiting her now "old" web site. That she numbers among the very bright luminaries that were a most important and inspiring part of my formative years in cyberspace. Maybe I'm making more of this than is real, but in a lonely world where I have lost many a beloved friend to Vietnam, substance abuse, homelessness, homophobia, AIDS and other assorted, unexpected and often tragic, circumstances, I am glad for my "e-friends" of the Internet. In fact, one remains a faithful associate after all these years (Tom Keske), and another once lived in the same apartment building in which I still dwell, but moved back to his home town of Philadelphia to answer a heroic calling to care for his Alzheimer's-ridden mother's final years of existence. That would be John Havrilchak, with whom I keep in close touch via email.

I understand, through her NYC pages, that Laura has also gone through most difficult crises, not the least of which was the infamous destruction of the Twin Towers. There also seemed to be a rather sad falling out with her mother...though I hope they are together again in familial bliss. I have no idea what other trials and adventures Laura's been through these past several years, because she no longer weaves her tales on the web! Though I wish her the very best, and goodspeed to all her endeavors.

But I have a hunch that some day soon, I'll search her name (Laura Maxwell) on Amazon.com, to find her first book in print, and a NY Times bestseller to boot! I will end this letter now, with a brief paen to Laura's NYC Tales:.

One sage piece of advice from one of her charming tales (and they are all charming, you'll never be disappointed), I will always take to heart, for it has spared me many a possible tragedy:
"Just Say No" to the White Stuff

11 Comments
My Name In Lights
06.24.09 (6:17 pm) [edit]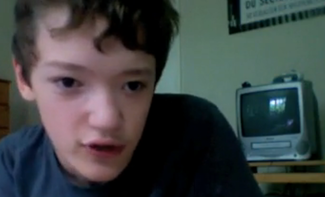 Click on image to visit Tom's channel.
Tom Rogers, a young man in Scotland w/cerebral palsy, creates excellent video tutorials about computers and cyberspace. Recently, he has asked for donations to expand his online endeavors. I was glad to contribute, because I truly enjoy his informative and interesting videos. And he was so delighted by all the kind people responding. He thanks each person via video blog, which was a nice surprise. Here's mine:
Donation: Ezekiel Krahlin
2 Comments
Cats Of Berkeley
06.22.09 (5:17 pm) [edit]

Casual, meandering strolls through Berkeley's neighborhoods is always a great pleasure, no matter what the weather or time of day. Friendly cats on most every block will be your sweet amabassadors to this kingdom of myriad gardens, cottages and tree-kissed sky.


4 Comments